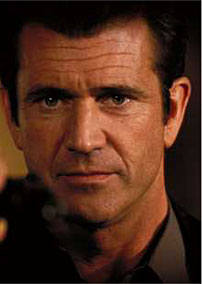 Mel Gibson has been one of my favorite actors ever since I saw him in the movie, Ransom. OK, ok, I know you're probably saying about now, "WHERE have you been???!!!"
Well, just one of those things, I guess! But after seeing Ransom, I went out and checked out the rest of his movies and wow, he really is an incredibly talented actor! And pretty handsome, too.
If you click on the photo to the left (which is from the movie, Payback) you'll get a clue as to my most favorite Mel Movies.
Not shown is Braveheart, but I really did like that movie, as well. I'm not a fan of period movies (in fact, I hate them) so I resisted seeing Braveheart. One night, there was nothing else to rent, so I finally broke down and rented the Braveheart Laser Disc. I was NOT disappointed. It really did deserve the Oscar for Best Picture.
Mel is not only a great actor he's also a great director. I've since purchased Braveheart on DVD and enjoyed it just as much the second time around. The next time I watch the DVD, going to listen to Mel's commentary.
Recently, I've seen Mel in What Women Want, which I thought was extremely funny. Mel frequently injects comedy into many of his roles, but this time he got to go all out. And how funny he was! I also really enjoyed his voice role as Rocky the Rooster in Chicken Run. What a great film, as well.
The Mel Gibson Mailing List is a good list to be on to find out all of the latest MelNews.
Last update: Saturday, August 23, 2003