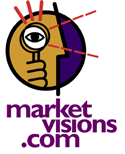 Your Integrated Marketing Solution
MarketVisions.com offers cutting edge Web Design, Graphic Design and Commercial Photography. I started MV in the summer of 1997 and since then we've been growing by leaps and bounds. Please check out the MarketVisions.com web site for a complete presentation of our offerings.
My area of expertise in MarketVisions.com is Web Design. I've been a Web Designer since 1995, when I constructed my original home page. Since then, I've designed a number of major web sites for both large and small corporations. Please check out my Web Design Portfolio for further information on the web sites that I've designed.
We also provide web hosting, electronic commerce, custom programming, and Internet marketing solutions.
It certainly is a challenge running your own business, but I've found it overall to be exhilarating. Are you in need of any web-design services? If so, please contact me and we can further discuss your needs.