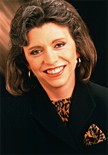 So who am I? In a nutshell, I'm a 49 year old divorced, working mother. I have two delightful children, Kara (15) and Greg (12). They truly are the light of my life. You can check out more pictures of both them and me in the My Kids section.
My primary work is in Web Design. I'm the President/Owner and Lead Web designer for MarketVisions.com, Inc. a company which provides Web Design, Graphic Design, and Commercial photography.
We can provide your complete, Integrated, Marketing solution. Please check out, the MarketVisions web site.
I'm also a practicing CPA and maintain a small tax practice. Need to have your taxes done? Contact me!
It's been an interesting ride these 49+ years so far. After twenty years of cubicle dwelling and dreading each day, I now wake up and welcome each day. I no longer spend Monday wishing for Friday to come. In fact, there never seems to be enough time in the day to get done everything that I want to.
Who knows what life holds ahead. But whatever it is, it will be something that I will build for myself. One day and one step, at a time.
Please write if you have any comments about my web site.