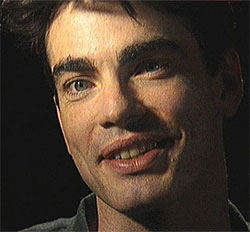 Peter Gallagher has been on my fantasy list since I first saw him in the movie sex, lies, and videotape. He was absolutely great in that. Once I discovered him in that movie, I went on to watch as many of his other movies that I could find.

His other role that I find very appealing is as Sky Masterson, in Guys and Dolls. I never saw this play when he performed it on Broadway, but I do have the Laser Disc of the making of the G&D soundtrack, called Guys and Dolls: Off the Record. It's really a great LD, sort of a documentary about the play and the actors. I'd never even seen the play before I saw the LD and I thought it was just great!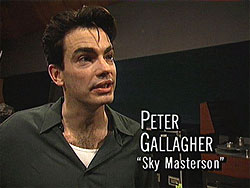 I subsequently saw the Road Show version of the Broadway production of Guys and Dolls in Seattle, but of course, Peter Gallagher was long gone. Still, it was nice to finally figure out what the story was all about.
The true abomination, though, was the movie version of Guys and Dolls that had Marlon Brando as Sky Masterson. It was so bad! Of course, I made the mistake of buying the LD before I realized what a truly trash movie it was.
It's funny that's he's never really been able to break through into the "leading man" roles. In most of his movies, he only gets supporting parts, such as in While You Were Sleeping when he was the comatose love interest of Sandra Bullock while she was really falling in love with his older brother.
I'm glad that Peter has seemed to achieve some success with the new hit TV show, The O.C. He certainly deserves it.
The pictures shown below are from the Guys and Dolls: Off the Record LD. To view the photos, just click on a number.
[ 1 | 2 | 3 | 4 | 5 | 6 | 7 | 8 | 9 | 10 | 11 | 12 | 13 | 14 | 15 | 16]