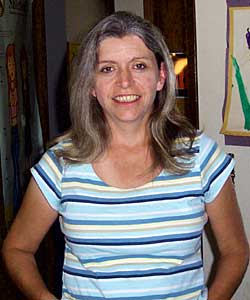 I was born in Seattle, WA and except for a 5 year stint living in the Boston area, I've lived in the Seattle area all my life. Mostly in Kirkland, a sleepy little town across Lake Washington from Seattle. It's nice here, being close to a big city environment without actually having to live in one.
By training, I'm an accountant. I have been a C.P.A. for 20 years. Right out of college, I got a job with Touche Ross & Co., (now Deloitte and Touche). Did the public accounting bit for 7 years, 2 years in Seattle and the 5 years in Boston.
I enjoyed the Boston area. I first lived in Brighton (near Boston College at the end of the Green Line). In the latter half of my stay there lived in Newton. That was a great area, as well.
When I returned to the Seattle area, I worked for a tax software company that produced income tax preparation software. It was a startup firm, called Accountants Microsystems, Inc. (AMI). That was the first job where I worked with computers full-time. AMI developed their software on Unix and I achieved a working knowledge of that operating system.
I got married around this time as well and Kara was born in late 1988. She truly is a joy. In 1992, Greg was born, interestingly enough, on April 15. I was working on the telephone support lines at SCS that year, and I remember my boss kept saying to me, "You can't have the baby until April 15 (he was actually due on May 7). April 15 comes and so does Greg! Greg, the little tax baby born to the CPA mommy.
AMI was bought out by a company called SCS/Compute in the early '90's. SCS was always a struggling company but I did enjoy working there. SCS in turn was bought out by the Thomson Corporation in late 1996.
I was at AMI/SCS for 12 years, during which time I held a number of positions. Tax analyst, technical writer and finally, at the end, their Web Manager.
I left SCS in mid-1997 when Thomson closed down most of SCS's operations and laid most of us off. I then started my own Internet Marketing firm, MarketVisions.com, Inc. with my specialty being Web Design. MV also offers Commercial Photography and Graphic Design, truly making it "Your Integrated Marketing Solution." I welcome you to visit to get an idea of what we have to offer.
Which leads me to where I am, today. An entrepreneur trying to create my own dream.