Home Theater
My primary hobby right now is my Home Theater. This hobby dates back to 1992 when I purchased my Pioneer Dolby ProLogic surround receiver. At the time, I only had my two stereo speakers hooked up to my TV. But gradually, I added the rest of the Home Theater components, the two rear surround speakers and the center speaker. That setup worked pretty well for a long time.
Around 1992, I also purchased my first LaserDisc player, the Pioneer CLD2080. The difference in picture and audio quality between a Laser Discs and a VHS tape was just incredible. I never could go back to watching a VHS tape after viewing my first LaserDisc.
System Upgrade

Subsequently, I started looking to upgrade my system. My first purchase was a Pioneer DVL-909 in the summer of 1998, which is a combination DVD/LaserDisc player. The DVD craze was starting to impinge on my consciousness, but I still wanted the capability to play all of my LDs.
Next, came a Velodyne subwoofer, in October, of 1998. That made an incredible difference in the sound, especially in movies heavy in Bass (such as Titanic). Then, when I began looking around, I realized that the technology in general had improved, tremendously, since my original purchase. Somehow, I'd missed the whole onset of AC-3, later termed Dolby Digital, Dolby's replacement for the ProLogic sound system.
Dolby Digital Arrives
Both Dolby Digital and Dolby ProLogic can send an audio signal to each of the speakers in a 5.1 speaker set, up. (the two front speakers, the two rear surround speakers, the center speaker and the subwoofer, which is the .1 in the equation.) However, DolbyDigital goes one step better by sending a discrete audio signal to each of the 5 speakers. Sounded good on paper.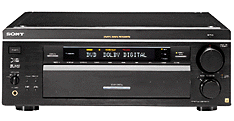 Before I could even imagine how this might sound to my ears, I had to purchase a Dolby Digital receiver. So, I purchased this Sony model, the STR-DA30ES. I chose this model because it offered not only Dolby Digital, but also DTS, which is a rival sound format to Dolby Digital. I wasn't actually sure what DTS really was, but figured I wanted it all, so why not.
Listening to Dolby Digital tracks on a DD encoded DVD: WOW! What an incredible difference it makes! I am truly impressed by the superior audio quality. I had always bragged about my ProLogic system, but this is so much better. The Sony delivers 80 watts/channel and you hear them. Voices and sounds come out of the direction that you're seeing, on the screen, and travel with any movement. The signal going to the subwoofer sometimes shakes the couch I'm sitting on. It's almost as big an improvement as Widescreen movies over Pan&Scan.
The Home Theater Abyss
But it was at this point that I began sinking down into the Home Theater Abyss.
I had DTS capabilities, or at least I thought I did. Wrong. DTS is a rival 5.1 sound system to Dolby Digital, and is supposedly "better," although that depends on who you're talking to. While my Sony came to me as "DTS capable," after I got it, I realized that my Pioneer DVL-909 DVD/LD player was not. At least, as far as playing DTS DVDs is concerned. Only the DVL-919, which Pioneer began shipping in February, 1999 is DTS ready for DVDs.
But get this; my DVL-909 can play back DTS-encoded LDs. The DTS people made their DTS LDs backward compatible with existing hardware. However, the DVL-909 is unable to play back Dolby Digital encoded LDs.
Are you still with me?
Out of the Abyss
But of course, there are answers to everything. To play DTS DVDs, all I need to do is hack my 909 into it. It's actually relatively simple (if you're an audio technician). It involves switching out these resistors on this chip in the 909's innards. I was just afraid of wrecking my machine, though, so I never installed it.
And to play DD encoded LDs, I just have to purchase an additional piece of hardware called an RF Demodulator. Simple, right? It would be, if I could find one, to buy. I've had the Yamaha model, APD-1 on back order at The Good Guys since April 4, 1999. And on the Sony web site, their model, the MOD-RF1, is continually being shown as on back order.
What's a hobbyist audio file to do?
More Toys! (Updated June 11, 2000)
Well, since I wrote the above, I've gotten even more toys!
Probably the most significant purchase is my new Toshiba 36 inch direct view

TV. I opted for the Cinema Series CN36Z71. Truly, what a difference from my 10 year old JVC 27 inch! I've got that TV now in the kids room and I can hardly stand to look at it. A wonder how I could have stood it all of these years.
The Toshiba is just wonderful. Crystal clear picture and it's just so much bigger. Of course, I did have some initial setup problems (the Video Only boys didn't know jack about setting it up correctly) but by now, I've finally got it working.
The CN36Z71 features Colorstream inputs (RGB) that supposedly vastly improve the quality of the video over RCA inputs. But when plugged into my DVL 909, I got nada. Black and White picture. Which supposedly means that it's not plugged in correctly. But no, I had it plugged in correctly. Finally, I discovered that I had to select Colorstream on the 909 but even doing that didn't help. It's busted. Here after I'd just purchased $50 worth of Colorstream cables.

So what's an audio/videophile to do? Go out and buy a new DVD player, of course. One that features colorstream. And also DTS. So, I went out to Onsale.com and picked up a Toshiba SD3109. Featuring Colorstream and a dual tray and DTS output. So now I can listen to DTS DVDs as well as use my colorstream inputs.
Cool! Of course, that presented an entirely new setup nightmare. What plugs into what to make everything work? But again through much trial and error, I got it all working.

And lo and behold, I finally did acquire that Sony RF Demodulator. After months of 'out of stock,' messages, one day it was in stock and I purchased it. I got that puppy hooked up and voila, I could then play my three Dolby Digital Laser Discs.
But then, what do I discover? My Titanic DTS disc no longer emits any sound. Nor do any of my other laser discs. Oh, man!
If it's not one thing with this audio/video stuff, it's another!
Well, I asked around but wasn't getting any answers. And so finally, through more trial and error, I found the answer.
See, my receiver, the Sony STR-DA30ES only features a Digital output and an Optical output. It does not feature an AC-3 RF output. The way I'd set it up was that the optical output was going to the SD3109. The digital output was going to the RF Demodulator and then to the DVL 909. And so that didn't leave an output directly to the DVL 909. So the Titanic disc wasn't getting any output for the sound, as the DTS information is stored on the PCM tracks. And my other PCM LDs had no sound, either.
So, now I've taken the RF Demodulator out of the loop and plugged the digital out from the receiver directly to the DVL 909. And if I want to watch Star Wars in Dolby Digital then I just have to change the connections to plug the Demodulator back in. It's a hassle but I truly have so few Dolby Digital LDs left, I can live with it.
A girl and her toys!
Last Updated Tuesday, July 20, 2004